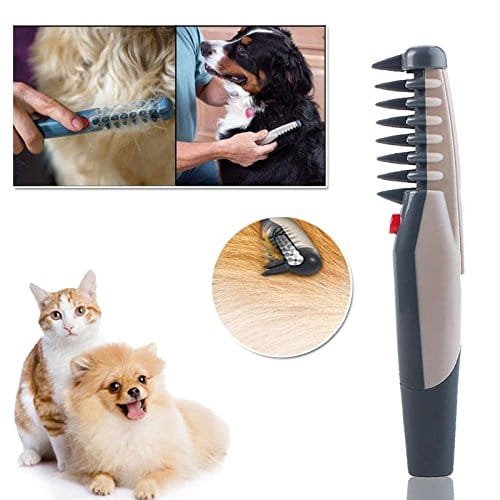 Electric Pet Grooming Comb-knot out
20
people are viewing this right now
Compare
Description
 Electric Pet Grooming Comb FACTORY SEALED
Electric pet grooming tool that allows you to remove knots and untangle nasty snags in your pet's coat while you groom, without stopping or getting caught up and hurting your best friend!
Grooming is a great chance to care for, and bond with, your pet. But traditional combs and grooming tools have a hard time dealing with long hair and can get knotted and tangled. This can cause pain and distress to both owner and pet, leaving them anxious and turning the whole experience into a dreaded chore.
Now there's Knot Out, the pet grooming tool that removes knots with the press of a button. Simply groom your pet as normal but, when you reach a snag or a knot, just press the button and the clever rotating blades at the base of each safety tooth spin into action! They cut through those strands of hair that are causing the problem, while the safety teeth continue their path through the coat so you don't even have to stop. Just press, untangle and carry on!
Knot Out is also super safe. The blades will never touch the skin, even if your pet moves while you are grooming, thanks to the safety teeth. And don't worry about shedding or unattractive 'chopped' hair because it only affects those very few individual hairs that are causing the problem. As soon as their hold is broken, the tool continues to groom, leaving your furry friends looking great and feeling happy and relaxed. Now you, and your pet, can enjoy pain-free, relaxing grooming sessions together, with Knot Out.
There are no question found.