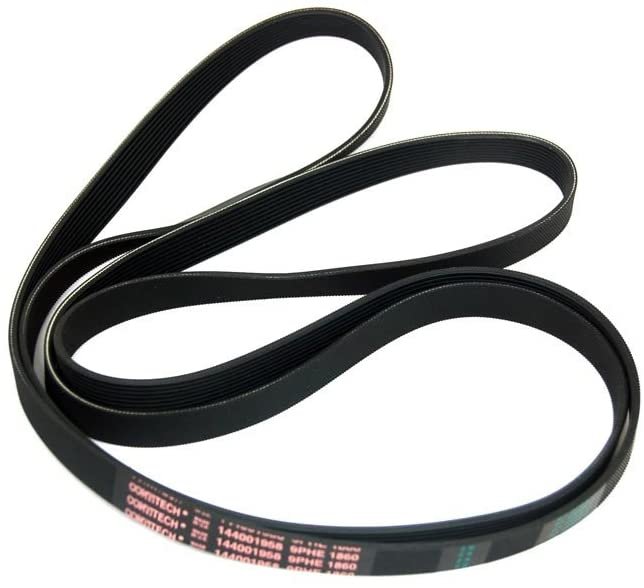 GENUINE HOTPOINT VTD00 VTD20 VTD60 Tumble Dryer BELT Drum Drive
21
people are viewing this right now
Compare
Description
Genuine replacement stretch drum belt – 1860h9e for your tumble dryer.

This can fit tumble dryers sold by different manufacturers and brands.

Take safety precautions when repairing all appliances. Repairs to gas appliances should only be made by a Gas Safe Registered engineer.
Suitable for the following appliances: Ariston ALE60VFR; AS60VAG; AS60VEX; AS60VEX60; AS60VEXPAI; AS60VSK; AS60VXAUS; AS65VXSNA; AS66VXNA; ASL60VEX; ASL65VXSNA; Clatronic WT5011V; Creda TVR2; TVS3; TVU1; Export SLE62; WT5011V; Hotpoint TVAL73C6GZUK; TVAL73C6PZUK; TVAL73CGZUK; TVAL73CPZUK; TVAM70CGZUK; TVAM70CPZUK; TVEL75B6AUK; TVEL75C6GUK; TVEL75C6PUK; TVEM70C6GUK; TVEM70C6PUK; TVF760A; TVF760G; TVF760K; TVF760P; TVF770A; TVF770G; TVF770K; TVF770P; TVFG65B6GUK; TVFG65C6GUK; TVFG65C6PUK; TVFG85C6GUK; TVFG85C6KUK; TVFG85C6PUK; TVFM60B6GUK; TVFM60B6PUK; TVFM60C6GUK; TVFM60C6PUK; TVM560G; TVM560P; TVM562G; TVM562P; TVM570G; TVM570P; TVM572G; TVM572P; TVYL655C6GUK; TVYL655C6PUK; TVYM650C6PUK; VTD00G; VTD00P; VTD00T; VTD20G; VTD20P; VTD20T; VTD60G; VTD60P; VTD60T; VTD65A; Indesit IDV65SUK; IDV65UK; IDV75SUK; IDV75UK; IDVA735SUK; IDVA735UK; IS60V; IS60VEX; IS60VEXPAI; IS60VFR; IS60VNL; IS60VS; IS60VSK; IS60VU; ISA60VUK; ISL60V; ISL60VEX; ISL60VNL; ISL60VSK; Proline TDV62
There are no question found.