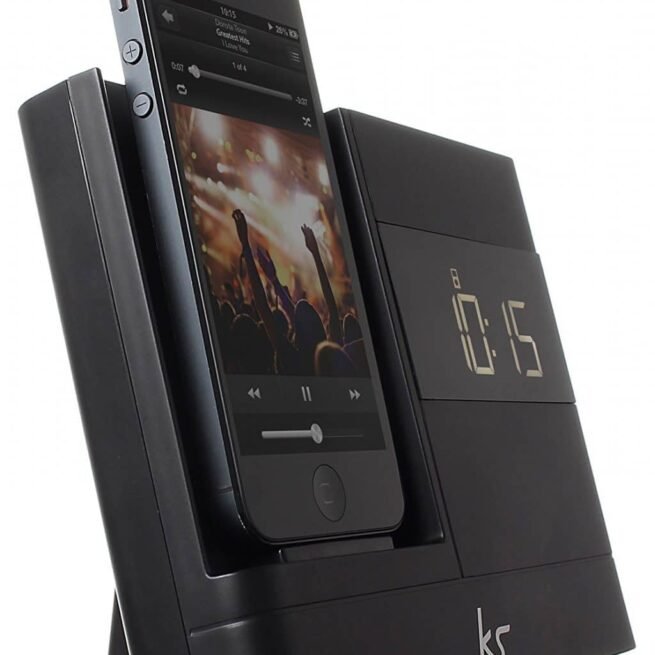 Kitsound XDOCK2 Speaker for Iphone
27
people are viewing this right now
Compare
Description
Kitsound XDOCK2 Clock Radio Speaker Dock for iphone5/5s/6/6s /7/8 and iPod Touch 2//3/4/5
Adjustable base and auto-sync
The modifiable base allows you to charge your iPhone with its case still on. The springy dock adjusts its height automatically to accommodate your phone case. The auto-sync function means you never have to set the date or time – because it does it for you.
Slim & Sleek Design Matt Black:
The KS XDock2 may be small enough to sit comfortably on your bedside table, but this clock dock is loud for its size.
To make life even more easy, there's a battery back-up to save your alarm and radio settings if the dock becomes disconnected from the mains and the Shhhh snooze button is slightly more large than the others so it's easy to find thing in the morning.
Combine all this with a soft-touch material and an easy to see LCD panel and waking up won't be quite as difficult as it was before you bought the KS XDock2.
Adjust Alarm & Wake-Up How You Want – Radio/Buzzer:
Whether you choose to wake to the FM radio, the buzzer or your favorite iTunes, the XDock2 gives you the flexibility to wake up how you want to.
A fully functioning alarm clock, speaker dock's large LCD panel is bright enough to display the time, alarm status and musical input clearly, yet subtle enough not to keep you awake at night.
Tuning in to your favorite station is easily done by pressing the advance button to scan manually or holding down to auto-scan and you can save up to 10 stations to the XDock2's memory. What's more, you can press the Shhhh button for an extra nine minutes sleep.
Multiple functions
As well as charging your device whilst allowing you to play music through the speaker, the XDock2 has simple controls which allow you to play, pause, skip tracks, fast forward, rewind and increase or decrease the volume at the touch of a button.
If you're listening at night, the handy sleep function will turn off your iPhone/iPod after a pre-determined period of time. The music will slowly fade out and stop, allowing you to have a peaceful night's sleep.
Multiple Connectivity Lighting Plus 3.5mm Aux
Giving you flexibility, you can also connect other devices via the auxiliary input jack located at the rear of the device.
Simply connect your music device via a 3.5 mm audio cable and play music through the XDock2's loudspeaker.
Sync & Charger
Automatically syncing the time from your device and charging it while it is docked. Finished in sleek matt black, the XDOCK2 also offers connectivity via a 3.5mm AUX jack allowing you to connect to almost any audio device and play music.it Charges and plays music at the same time also 2nd mode is radio and clock. Mains power adapter included.
Please notethat it comes with 2pin power adapter but we will supply the 3Pin converter with it.
There are no question found.