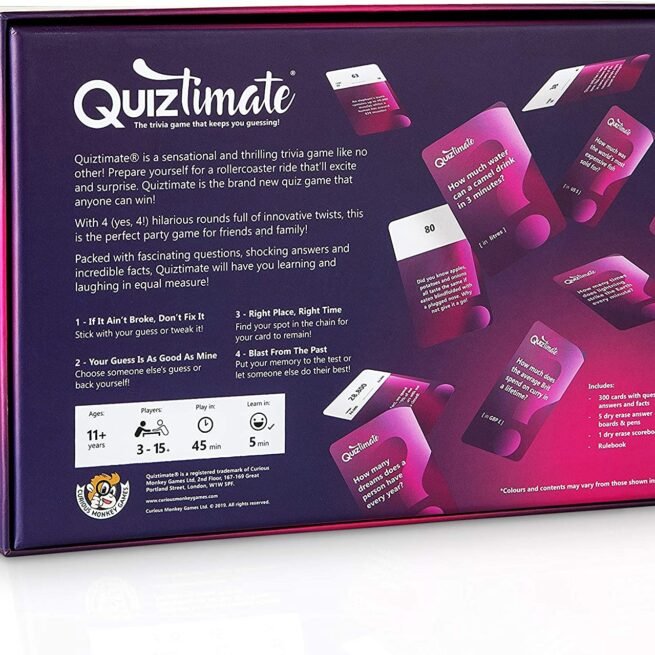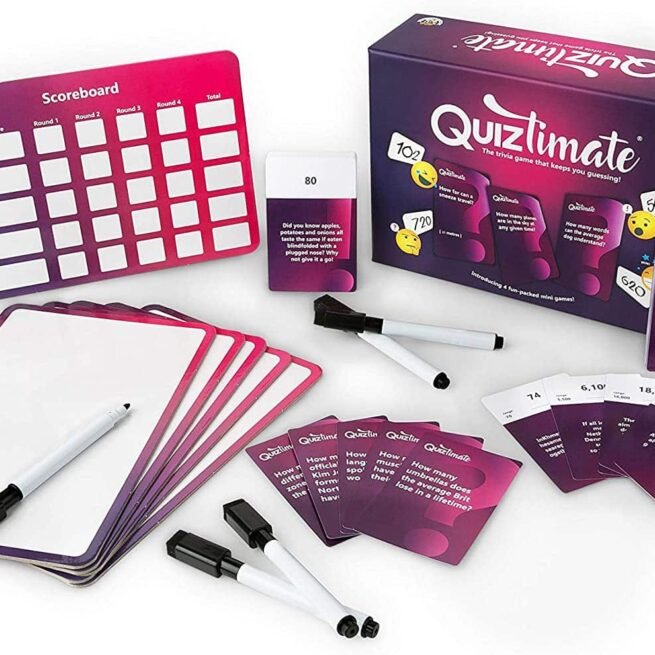 QUIZTIMATE – The trivia game that keeps you guessing! – The hilarious 4-round quiz game that anyone can win, perfect for friends and family!
20
people are viewing this right now
Compare
Description
QUIZTIMATE is the brand-new trivia family game that truly anyone can win! Quiztimate has a unique gameplay combining 4 different rounds to keep the game exciting!

EVER WONDERED… how many umbrellas Brits lose on average in a lifetime or how many words the average dog can understand? Well we have! In fact, we have compiled a list of 300 thought-provoking questions with astounding answers and incredible facts on the back of every card that are guaranteed to leave you astonished!

FAMILY-FRIENDLY: Tired of knowledge-intensive trivia and that know-it-all friend who gives no-one else a chance?! So were we… which is why we decided to level the playing field! Quiztimate does not require any knowledge but instead encourages logical reasoning! Everyone can play and anyone can win!

SOCIAL GAME: Leave your smartphones aside and gather all generations around the table! Quiztimate will have everyone talking, laughing and learning in equal measure! Play in teams or in individual mode from 3+ players!

QUICK AND EASY TO LEARN: Each round can be learnt in 1 minute (we have road-tested this on our most impatient friend)!
There are no question found.